Welcome to Replay #1, and my first blog post in a very long time.
Each month I'm going to inspect my hobby highlights from tabletop to bottom and share some I like here.
Here are some Instagram posts plucked through the power of stats – plus a few personal picks.
The more I get into games, the more I get into stats.
I think you kind of have to if you want to really enjoy hobby board gaming…
❤️ MOST LIKED
View this post on Instagram
💾 MOST SAVED
View this post on Instagram
💬 MOST COMMENTED
View this post on Instagram
🥇 FAVOURITE POST
View this post on Instagram
🎲 GAME OF THE MONTH
View this post on Instagram
SHELF SPACE ++
I lulled my poor wallet into a false sense of security last month…
I'm expecting an influx of Kickstarter games soon™, so I held myself back numerous times; no buying any more cardboard to adorn my already bulging shelves.
However, I eventually had the stark realization; these long-anticipated Kickstarter games will still need somewhere to live (big boi Joan of Arc, Villagers, Unbroken, and the Unfair Expansion).
So instead I bought shelves to hold more – err… future cardboard.
🀄 Hobby: 1 – 👛 Wallet: 0
They do look nice though.
Coincidentally, they got me more into reading, now that the his and hers book collections are more on display.
I'm also more than happy to see the Quacks of Quedlingberg box art every time I wake up now. 🌞
GAME DESIGN DIARY
There have been a few triumphs and failures this past month.
Pack It Tin
First of all; thank you to everyone who has shown Pack It Tin some love.
The genuine support from interested fans and keen playtesters has been bloody lovely. It's definitely helping me get on with redesigning the cards and add a new rulebook.
The polishing phase can drag on a bit…
Not a lot of projects manage to make it this far. I'm a bit of a perfectionist, see.
I used to think that was a pretty good thing, but turns out it's not and I'm trying to break out of this bad habit.
I get too hung up on unimportant details, and sometimes things have a habit of never being quite – ready. 😅
Burnout Revenge
Working on three different game design projects in the last month was brilliant fun, until it wasn't – for a few days. After a minor burnout, I had to slow right back down.
I tunnel vision on passion projects far too much; sometimes forgetting to take time away.
Do that for too long, and – BOOM 💥
B U R N O U T.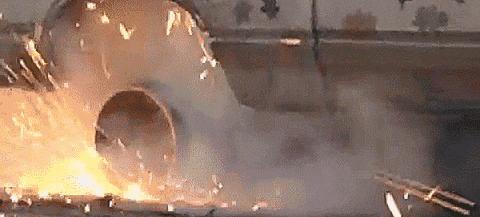 Me, working hard, not smart.
Personally, I'm not very productive during a burnout. It's a mini depressive episode for a few days to a week and, rather annoyingly, a lot of the time I don't realise it's happening.
Though, once I slow down, have a break, and treat myself with a little more empathy, I usually feel quite rejuvenated after. Phoenix rising and all that.
Sometimes a kick up the butt is just what you need; nothing makes me more grateful/creative than coming out of a slump of a week.
Note to self; release the pressure more often, and take more time to plan rather than push. Since listening to my own advice, I feel way more confident, and up to the exciting challenge of preparing for UKGE this year.
It's going to be my first expo, and I can't wait to make the most out of it 👍.
New Game: Tinderblox
So, public therapy session out of the way, I'm really excited to show off more of my mint tin games in development. I'll have some complete posts on this one coming up, but here's a sneak peek at one of my brand new games, Tinderblox!
It's a campfire building dexterity game for 1-6 competitive or cooperative players, that fits right in your pocket.
Honestly, I've been having so much fun with Tinderblox, and so have my friends (which is always a good sign).
It's the ideal little game to bring to the cafe or pub, and the rules are dead simple; if you know how to play Jenga, you're qualified.
Know Men at Work? You're overqualified!
Oh go on, let's have a proper look…
More on that in the near future!
That's it for this week – thanks for reading, and here's to another month of tabletop titillation. 😉
– Rob Sparks (@boardgamebud)
❤️💾💬🥇🎲